DIFFUL SOLAR PUMP - - Solar Irrigation System
Irrigation technique development is essential for agriculture development.However,in the drought and remote region,water sources are scarce,and the electricity transmission is inconvenient,the agriculture development is extremely slow,the food security cannot be guaranteed.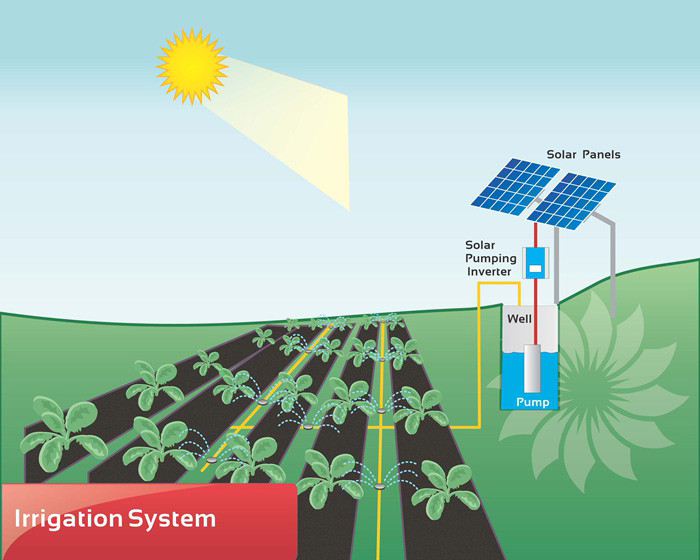 Advantage of solar irrigation system
The solar irrigation system utilizes the solar radiation energy to produce electricity power,which drives the pump directly,pumps the water from underground or river and conveys it to the farmland.
To complement with facilities of flood irrigation,canal irrigation, spray irrigation or drip irrigation,the system can meet different irrigation requirements.
It is more reliable than wind power system, and it reduces the cost of grid power transmission.
Compared to the diesel powered ones,it is more environment-friendly and consumes much less operation cost.
The advanced technology of solar irrigation system prevent drought efficiently and guarantee sustainable agriculture development.
DIFFUL solar irrigation system
DIFFUL PUMP is a professional manufactory for submersible solar pumps, surface solar pumps and swimming pool solar pumps.
Our head office is located in Wenling, Zhejiang, which is established in 1989. And we found our branch office specially for solar pumps in 2016 in Ningbo, Zhejiang. We have kinds of advanced automatic winding machines and processing machines, 7 assembling lines and testing machines to control the quality. And we already got CE certificate, ISO9001, technical patents etc. We export at least 155000 pcs of solar pumps all over the world every year, and got countless buyer praise. We never stop the steps to improve and innovate our solar pumps to reach the different market requirements.
If you want to know more about solar power pumps, please contact me
E-mail:sales08@diffulpump.com
Tel/WhatsApp:+86 15058288607