DIFFUL SOLAR PUMP - - Application and advantages of solar swimming pool pumps
Application of solar swimming pool system
Mainly for swimming pool circulation and water purification, to provide and maintain clean water.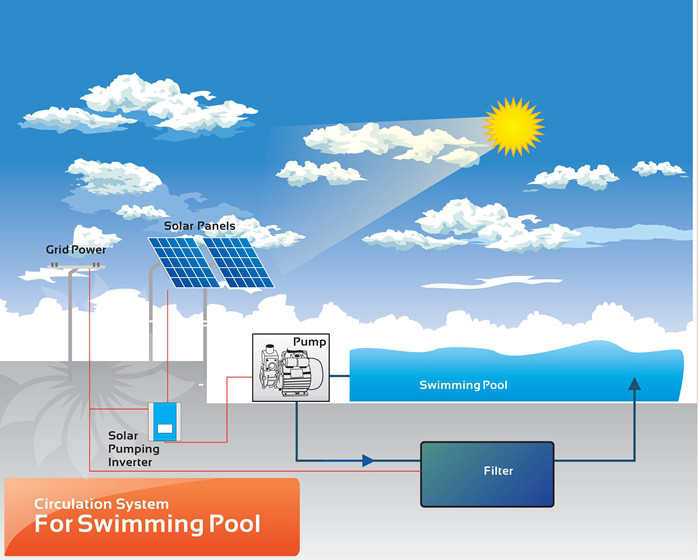 Advantage of solar swimming pool system
With the mass emission of greenhouse gas like carbon dioxide, global warming is a growing problem to face. Renewable energy is thus greatly promoted and applied in developed countries. Government subsidies renewable energy users or allows free tax policy so as to reduce consumption of those non-renewable energy like oil, coal. This significantly helps to save energy and protect environment.
DIFFUL Solar circulation system is featured with modular design. It is fully safe and reliable, very easy for maintenance. We have two types of DC and AC/DC hybrid. No battery is needed. The solar panel is directly connected to the controller to make the water pump work. The AC/DC hybrid swimming pool pump can not only work with solar panels, but also with AC power when there is no sunlight.
DIFFUL Solar circulation system not only benefits the domestic and commercial users with purified water and advanced swimming pool circulation mode, but also reduces electricity cost with free energy.
DIFFUL are manufacturer of DC solar pump, Product contains submersible solar pumps, surface solar pumps and solar swimming pool pump.
Our head office is located in Wenling, Zhejiang, which is established in 1989. And we found our branch office specially for solar pumps in 2016 in Ningbo, Zhejiang. We have kinds of advanced automatic winding machines and processing machines, 7 assembling lines and testing machines to control the quality. And we already got CE certificate, ISO9001, technical patents etc. Every month, we export at least 15500 pcs of solar pumps all over the world, and got countless buyer praise. We never stop the steps to improve and innovate our solar pumps to reach the different market requirements.
If you want to know more about our products, please contact us.
E-mail:sales08@diffulpump.com
Tel/WhatsApp:+86 15058288607